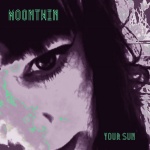 Moontwin
Your Sun
New Single Out Now.
Moontwin is a collaboration between singer-songwriter Maple Bee (aka Melanie Garside) and XRaydio founder Zac Kuzmanov.
'Your Sun' follows the release of the singles 'Don't Worry Bout Me' and 'Butterfly', blending electronica with raw, organic blues and strong melodies, reminiscent of
The Kills, The Duke Spirit and Royal Trux.
Watch the video here:
Melanie and Zac collided in a virtual space somewhere between Bulgaria and London. Distant old friends with a common history, the pair began to reacquaint and soon found themselves spinning threads of musical ideas.
They write and record their music and film their videos using videophones as their portal, all while being over 1700 miles apart.
https://www.facebook.com/moontwinmusic/
https://www.instagram.com/moontwinmusic/
https://twitter.com/moontwinmusic