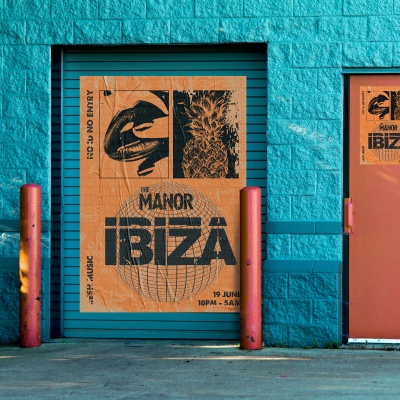 The Manor
Ibiza
New Single Out Now.
Following the release of their highly-anticipated track 'Tyson Fury', one of the most infamous emerging acts in London, The Manor, return with a pure statement of summer intent with their latest offering 'Ibiza'. Taking a hook from Bob Marley's classic 'Sun is Shining', the family loved it on first play and it's one of the only samples in recent years that's been cleared by the Marleys themselves.
The track sees Scotty Stacks flowing through an epic holiday encounter in his trademark laid-back style, 'Ibiza' balances a gorgeous, grooved-out baseline and Balearic horns bringing a sun-filled swagger to what's shaping to be one of the club heaters of the summer.
Beginning as three friends from Beckenham, south London scheming on their fag break during college, MCs Danny Graft, Scotty Stacks and Jonny Dutch started fusing UKG with elements of grime and rap to a fierce sense of local pride and a love of their community. Starting to put on shows - essentially parties for themselves and their mates – they started building a serious reputation; Inner-city hustle mixed with local love has swiftly caught the attention of the increasingly heavyweight tastemakers including NOISEY, RWD, SHORTLIST, RED BULL, CLASH and BBC R1Xtra as well as The Streets' founder Mike Skinner who personally secured them as main support for their huge upcoming UK tour.
Selling out the O2 Forum in a matter of minutes in April, the same cult following promises incredible scenes at Wireless, Rize and Reading & Leeds this year, as well as a massive set at Ibiza Rocks in August with Craig David. Undoubtedly one of the most exciting emerging acts in the UK right now, it's only a matter of time before The Manor build to the kind of culture shift that's so evident live. 'Ibiza', with a blessing from a bonafide legend, means The Manor look inescapable this summer.
https://www.facebook.com/TheManorOfficial/
https://twitter.com/_TheManor