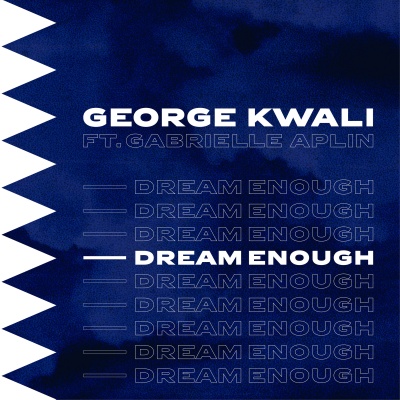 George Kwali
Dream Enough
Vocal Version ft. Gabrielle Aplin released 17th August.
Acclaimed Brighton-based Producer/DJ George Kwali proves why he's tipped for big crossover success in 2018 with the dreamy and hypnotic 'Dream Enough', featuring the vocals of leading UK singer-songwriter Gabrielle Aplin, released on 17 August on Insanity Records.
Following his huge hit 'Crank It' with Kideko which became one of the biggest tracks of 2016, 'Dream Enough' cements George Kwali's reputation as one of the most exciting talents in the UK today. Gabrielle Aplin's beautifully ethereal vocal perfectly matches George Kwali's euphoric bass-infused beats also draws on acid house influences, to deliver what is set to be another impressive hit for the pair.
On working with Gabrielle Aplin, George Kwali said: "I've been a fan of Gabrielle Aplin for a while now, so when she was suggested as someone to work with I jumped at the opportunity. Her voice is so classy, and I love that about her."
On collaborating with George Kwali, Gabrielle Aplin said: "I love writing for and working with other artists, so it was so great to collaborate with George on 'Dream Enough'. We're both Brighton based and have lots of mutual music friends, so it was great to finally work together on this track. We wrote and recorded this song the first time we wrote together so it was all very natural and easy process. I'm so happy with the track and how it turned out!"
With 'Crank It', George Kwali produced one of the biggest tracks of 2016, hitting No.1 in the BBC Radio 1 Dance Chart and being crowned as the "Hottest Record in the World" by Annie Mac, plus Danny Howard's Future Anthem. Other notable supporters include Pete Tong, MistaJam, Toddla T, Gorgon City, Armand Van Helden, and Fatboy Slim.
George Kwali's follow up track, 'When It Breaks', was an immediate, infectious cut which was built for radio, thanks to an anthemic Lonestate vocal.
George Kwali then reunited in the studio with Kideko for 'All On Me'. With its hearty bassline and deep, brooding layers, the pumping house hit reached No.1 in Cool Cuts and No.2 in the Music Week Upfront Club Chat, winning broad radio support.
Gabrielle Aplin's career took off when she built a massive fan base by posting videos of herself singing online in 2012. Aplin went on to release her debut album 'English Rain' in 2013 which spawned her iconic cover of 'The Power Of Love' which reached No.1 in the UK. With a slew of further Top 10 hits including 'Please Don't Say You Love Me', 'Home', 'Salvation', and 'Panic Cord', 'English Rain' is now certified GOLD in the UK.
18 months of international touring followed, where Aplin racked up a further three international No.1s. Her sophomore album in 2015, 'Light Up The Dark' displayed a maturing in Aplin's sound with the anthemic singles 'Sweet Nothing' and title track 'Light Up The Dark'.
Aplin released her 'Miss You' EP in 2016 and 'Avalon' EP in 2017, on her own label Never Fade Records. The EPs have now racked up an impressive 75 million combined and Aplin is currently working on her third album.
facebook.com/GeorgeKwali
twitter.com/GeorgeKwali
instagram.com/georgekwali
soundcloud.com/georgekwali