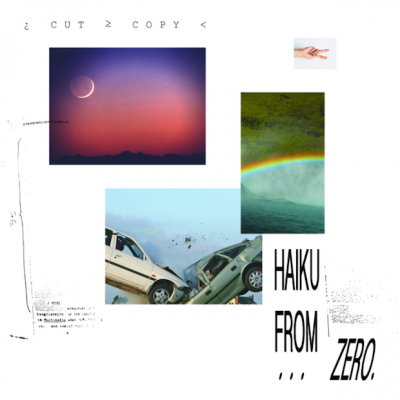 Cut Copy
Standing In The Middle Of The Field
FROM THE FORTHCOMING ALBUM 'HAIKU FROM ZERO'.
Cut Copy have announced details of 'Haiku From Zero', their first studio album in four years, which will be released on September 22nd (Virgin EMI/Astralwerks).
The band have also unveiled the second single from the album, 'Standing in the Middle of the Field'. Amid a backdrop of loping kalimbas, cowbells and bubbly synths, lead singer Dan Whitford's plaintive voice offers some emotional advice: "You gotta give up the things you love to make it better." The song announces a theme that percolates throughout 'Haiku From Zero' – the need to cut through the noise, a desire to focus.
"So much of this album is about this mosaic of information, images that we're surrounded by on a day-to-day basis," says Dan Whitford. "Sometimes it feels like overload, but there's a weird random beauty in it. The idea of squeezing poetry from chaos was where the title of the album came from – the idea of finding something poetic in the overload."
Written and recorded at studios around the world (Melbourne, Copenhagen, Washington, DC, New York, Atlanta), the nine tracks on 'Haiku From Zero' nonetheless present a united sonic front, due in no small part to the guiding ear of producer Ben Allen (Deerhunter, Animal Collective, Neon Indian). Songs like "Counting Down" and "Living Upside Down" offer glimpses of beauty in a state of disco-fueled flux.
First single 'Airborne' met with widespread critical acclaim upon its release last month. Noisey said, "It is classy as shit, and it's definitely a 'match your steps to the tempo of the song as you walk down the street' kind of jam." Stereogum hailed it as "a disco-pop odyssey that sounds like, well, soaring through the sky, before eventually blasting off into psychedelic bliss." Consequence of Sound praised the accompanying video, directed by Gerson Aguerri (The Vaccines, Breakbot) of the Barcelona-based production company CANADA, as "magical." Paste Magazine found it "wildly imaginative" and noted, "[it] follows frontman Dan Whitford as a trek for a late-night munch leads him down a surreal rabbit-hole filled with otherworldly characters and bizarre street views."
View the official video for 'Airborne' here:
Initially a bedroom recording project by Whitford, Cut Copy evolved into a full-fledged band with guitarist Tim Hoey, drummer Mitchell Scott, and bass player Ben Browning. The quartet's studio albums include In Ghost Colours, which Pitchfork named as one of the best albums of 2008 and among the top albums of the 2000s, and 2011's Zonoscope, which won two ARIA Awards and was nominated for a GRAMMY.The band's songs have been licensed for use in television, games and commercials, including Chevrolet, Netflix, Amazon and Levi's® #LiveinLevis campaign. DJing and mixes have also been a big part of Cut Copy's identity – from the band's famed Fabric mix, Fabriclive.29, to the 2014 Melbourne dance compilation, Oceans Apart. In addition to headlining massive sold-out shows, the band has gained prime slots at prestigious festivals such as Coachella, Ultra and Lollapalooza in the U.S.; Primavera in Spain, Pitchfork in Paris; Summer Sonic in Japan; and Big Day Out in Australia.
Track Listing – Haiku From Zero
1. Standing In the Middle of the Field
2. Counting Down
3. Black Rainbows
4. Stars Last Me a Lifetime
5. Airborne
6. No Fixed Destination
7. Memories We Share
8. Living Upside Down
9. Tied to the Weather
Official Sites:
http://cutcopy.net
https://www.facebook.com/cutcopy
http://instagram.com/cut_copy
https://www.youtube.com/user/CutCopyVEVO
https://twitter.com/cutcopy