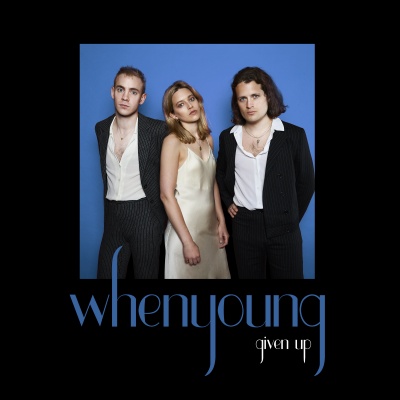 whenyoung
Given Up
Title Track From Debut EP.
"Irresistibly hooky indie pop making them one of the most instantly appealing new bands we have at the moment" DIY
"We've seen the future of indie pop. and it looks a lot like whenyoung" Dork
"Bold and beautiful, we genuinely can't get enough." Wonderland
Following their recent singles 'Heaven on Earth' and their cover of the Cranberries classic 'Dreams', Limerick's finest indie-poppers whenyoung have announced their new EP 'Given Up' to be released through Virgin EMI on the 9th November.
The title track is a perfect example of the band's sound. Underpinned by a driving, Pixies-esque bassline and chiming guitars, it's mix of gritty alt-rock edge with a shimmering chorus showcases just how special the band's song writing is. In the band's own words, "Given Up was written after a series of late nights and self-inflicted misdirection. The central message is to take your life by the reins and create your own future."
The EP will be released on all digital formats on the 9th of November as well as on 10" blue vinyl, continuing the primary colours trilogy following on from their debut 7"s.
2018 has already been a landmark year for the young band. It's seen them perform in Dublin as part of Shane Mcgowan's 60th birthday celebration alongside the likes Nick Cave and Sinead O'Connor. They've also supported the likes of Dream Wife, Declan McKenna, The Vaccines and Peace.
Not a band to rest on their laurels they've had a packed summer of festival appearances. Having already played storming sets at this year's Great Escape, Latitude, Kendal Calling and Bestival, they are playing headline shows in October supporting both The Vaccines and Blossoms on their upcoming tours.
More info on whenyoung
whenyoung are Aoife Power (Vocals/ Bass), Niall Burns (Guitar), Andrew Flood (Drums). Their story started in Limerick ... three underage teenagers met for the first time after sneaking into Costello's Tavern: the only bar in town that floated their musical tastes. After bonding over cheap vodka and the sound of The Velvet Underground, they began playing music together and moved to Dublin to seek some big city excitement. Developing their sound, still with a DIY approach, the band moved to London in 2017 to became whenyoung.
UPCOMING LIVE DATES
26th September - The Key Club - Leeds
27th September –The Shipping Forecast - Liverpool
28th September - Think Tank? – Newcastle
29th September – Tenement Trail Festival – Glasgow
3rd October - The Boiler Room – Guildford
4th October - The Purple Turtle – Reading
5th October - The Cookie – Leicester
6th October – Neighbourhood Festival – Manchester
10th October – Komedia Studio – Brighton
11th October – Boston Music Rooms – London
12th October – Kasbah – Coventry
13th October – Heartbreakers – Southampton
20th October - Ancienne Belgique - Belgium (Supporting The Vaccines)
21st October - Luxor - Cologne (Supporting The Vaccines)
22nd October - Gruenspan - Hamburg (Supporting The Vaccines)
24th October - Alhambra - Paris (Supporting The Vaccines)
25th October - Melkweg - Amsterdam (Supporting The Vaccines)
26th October - Festaal Kreuzberg - Berlin (Supporting The Vaccines)
28th October - Vega Small Hall - Copenhagen (Supporting The Vaccines)
29th October - Pustervik - Gothenburg (Supporting The Vaccines)
30th October - Nalen - Stockholm (Supporting The Vaccines)
2nd November – The Workman's Club – Dublin
3rd November – Dolan's – Limerick
4th November – Cyprus Avenue – Cork
4th December - O2 Academy 1 – Sheffield (Supporting Blossoms)
5th December - Rock City – Nottingham (Supporting Blossoms)
7th December - O2 Academy 1 – Birmingham (Supporting Blossoms)
8th December - Victoria Warehouse – Manchester (Supporting Blossoms)
9th December - Victoria Warehouse – Manchester (Supporting Blossoms)
11th December - O2 Guildhall – Southampton (Supporting Blossoms)
12th December - O2 Academy 1 – Bristol (Supporting Blossoms)
https://www.facebook.com/whenyoungband
https://twitter.com/whenyoungband