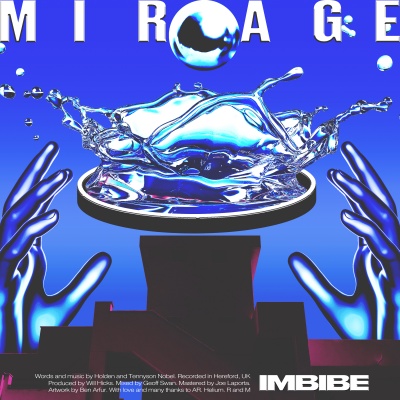 Imbibe
Mirage
BROTHERS FROM BYRON BAY VIA BERLIN REVEAL DEBUT SINGLE 'MIRAGE'.
"Imbibe's debut single 'Mirage' is the year's best existential jam. A thumping slice of electro-pop." NME
IMBIBE is the new musical partnership of brothers Tennyson and Holden Nobel who release their superb debut single 'Mirage' via Helium Records.
Originally from Byron Bay, Australia, the duo now calls the creative suburbs of Berlin their home, where they began crafting their brand of off-centre pop – with 'Mirage' the first offering. Recorded in Herefordshire with Grammy nominated producer Will Hicks, 'Mirage' is an accomplished debut, built around the duo's talent for melody and glistening synths, all carefully kept in check by a brooding bass line and static drums.
Of the track, the duo commented; "It's really about the different mirages all humans have - the things we keep striving for that represent our deep longings and hopes. The never-ending search for meaning".
Hot on the heels of 'Mirage', the brothers will take to the road with their good friends PARCELS for a UK tour this November.
05/11 Manchester Academy 2
06/11 Bristol SWX
07/11 Leeds Stylus
08/11 London Roundhouse
- Supporting Parcels
https://www.facebook.com/WeAreImbibe/
https://twitter.com/weareimbibe