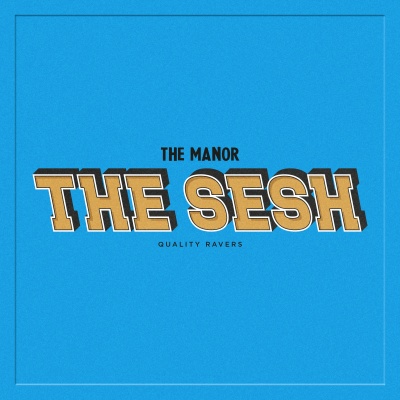 The Manor
The Sesh
New Single Out Now.
"Imagine what The Streets would sound like had they been caught in a cycle of casual trapping and elongated nights out until their brain began to enter a dark, twisted shade of existence." – Noisey
"Equally loved by students, South Londoners, taxi drivers and the odd Kasabian fan or two, The Manor probably have one of the most diverse audiences around." – Notion
"Fusing the boredom and the ecstasy of austerity Britain." – Clash
"They're going places." – Mixmag
The Manor – the best thing from Beckenham since Bowie – celebrate all-night hedonism in their latest track 'The Sesh'. "The DJ just dropped an old school set and we don't wanna go home yet," hollers Jonny Dutch before the trio's relentless rhymes hit upon everything needed for an epic session. Tonight's about crates, snouts and birds – forget about tomorrow's comedown.
2017 has seen a rush of highlights for The Manor. Their Parlophone debut EP and narrative video series 'Weak Days, Strong Nights' depicted a debauched diary of a weekend in the life of the trio, and all of the highs and lows that follow as a consequence. They subsequently featured on Yanaku's 'No Half Measures' and dropped the back-to-basics 'Yeah You' for their hardcore fans.
They instigated chaotic scenes at their biggest sold-out show to date at Electric Brixton and those scenes were replicated with a big "weekend getting off our nut" when they performed to a packed 1Xtra Stage at the Reading and Leeds Festivals.
Support came from a cross section of media which reflects their eclectic fanbase, with the likes of SB.TV, RWD, Noisey, Notion, Clash, Mixmag and the Daily Star on board.
On first impressions, The Manor are three friends whose music and tales of everyday life and finding the positive in any negative situation – are being embraced by like-minded souls the nation over. Along the way there's been some classic south-east London style duckin' and divin' as the trio stand on the cusp of substantially bigger things.
Scratch the surface, however, and you'll see that there's much more to them than such a snapshot suggests. Jonny Dutch and Danny Graft were schoolmates who later connected with Scotty at college. When the former pair headed to university to study economics, Scotty Stacks made a small fortune selling and trading sports hospitality, houses, baked goods and Ralph Lauren.
After earning an underground following, their retirement at the end of 2014 garnered so much attention that they returned bigger and better than ever just over a year later.
http://welcometothemanor.co.uk/
https://open.spotify.com/artist/2ZeAzgQtLfcPmMap31S0dZ
https://www.facebook.com/TheManorOfficial/
http://www.twitter.com/_themanor
https://www.instagram.com/_themanor/
https://www.youtube.com/user/TheManorOfficial