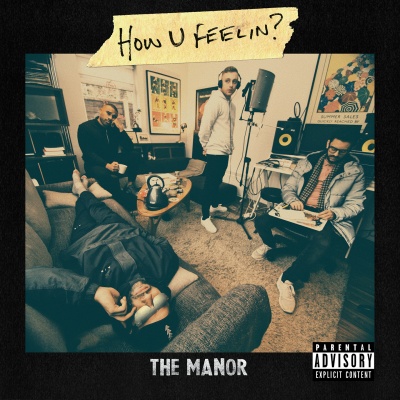 The Manor
How U Feelin?
New Single Out Now.
"Imagine what The Streets would sound like had they been caught in a cycle of casual trapping and elongated nights out until their brain began to enter a dark, twisted shade of existence." – Noisey
"South London trio The Manor have carved a niche for themselves in recent times, crafting up-tempo garage and dance-influenced anthems centred on the pursuit of good times." – Complex
"Fusing the boredom and the ecstasy of austerity Britain." – Clash
"Equally loved by students, South Londoners, taxi drivers and the odd Kasabian fan or two, The Manor probably have one of the most diverse audiences around." – Notion
"They're going places." – Mixmag
It's not unusual for there to be a few regrets floating around after 'The Sesh' has finally come to a close – especially when BBC News report on your hedonism – and The Manor document what went wrong because of their love of raving in their new track 'How U Feelin?'
'How U Feelin?' explores how the highs of the rave lead to new lows in relationships. "No excuse for my behaviour, Friday to Sunday - that's three days gone," begins Jonny Dutch. Danny Graft and Scotty Stacks' verses delve into similar tales, like Craig David's '7 Days' in the midst of a break-up inspired by a comedown.
At the end of the day though: "We try to make amends when we sober up again / Righting all our wrongs just to make them all again."
Infamous for their live events, The Manor recently announced details of their largest headline show to date at the O2 Forum Kentish Town on April 7th. They promise it's going to be a big one: "You won't believe what we've got in store and neither will the council."
The Manor's devoted underground following expanded throughout the course of 2017. Their EP and narrative video series 'Weak Days, Strong Nights' depicted a debauched diary of a weekend in the life of the Beckenham trio and their fans – as well as all of the highs and lows that follow as a consequence.
They instigated chaotic scenes wherever they went, notably when the police closed down their soundsystem in Camden as they headed to the afterparty following their headline show at Koko. They also sold-out the Electric Brixton and spent a big "weekend getting off our nut" when they performed to a packed 1Xtra Stage at the Reading and Leeds Festivals.
The Manor subsequently featured on Yanaku's 'No Half Measures' and dropped the back-to-basics 'Yeah You' for their hardcore fans before ending the year – where else? – on 'The Sesh'.
http://welcometothemanor.co.uk/
https://www.facebook.com/TheManorOfficial/
http://www.twitter.com/_themanor
https://www.instagram.com/_themanor/
https://www.youtube.com/user/TheManorOfficial