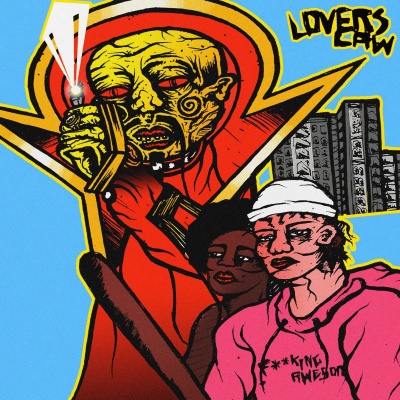 Rat Boy
Lovers Law
New single out now!
"Distorted guitar and scabby, semi-political rants." - THE FADER
"Cool shit man! Keep it going!" – Tyler, The Creator
"A potent mix of Blur's cockney knees-up side, the urgency of The Libertines and Beastie Boys' in-yer-face raps." – NME
"There's no doubt that Jordan Cardy has the bangers to make a real breakthrough." – Dork
"He's all about fighting for your right to party." – The Guardian
"Rat Boy is the next in the lineage of Ian Dury and Mike Skinner." – Noisey
"One of the UK's most exciting new acts." – DIY
RAT BOY's rebellious collision of genres has won an army of kindred spirits following a crazed summer in which he provoked chaotic scenes at the Glastonbury, Reading and Leeds festivals, completed his biggest UK tour to date and impressed with his Beck-meets-bossa nova track 'Get Over It'.
RAT BOY's next move is also firmly underway after Annie Mac picked his new single 'Lovers Law' as her Hottest Record in the World. 'Lovers Law' is now available to download or stream.
Throughout his tracks to date, RAT BOY has continually evolved his style from the hip-hop/punk fusion of 'Sign On' through to boisterous big beat with 'Move' and the trap/funk/folk mash-up of 'Get Over It'.
'Lovers Law' offers another angle to his consistently eclectic sound in which a modernised take on the energy and anarchy of the Madchester scene battles for prominence with elements of 80s electro-pop.
In addition to the release of 'Lovers Law', Rat Boy has completed a session for Annie Mac and been nominated for the title of Best Breakthrough Artist at the Q Awards.
In addition to his music, RAT BOY's skills extend into other disciplines including artwork, video production, prop design and fashion. His clothing line SCUM mixes 70s gangster chic with in vogue skatewear, and his creations have been snapped up by fans who have stayed behind after gigs to buy his limited edition designs.
Throughout the year to date, RAT BOY's growing acclaim has been matched with a succession of major award nominations. He started the year in style by being named on both the BBC Sound of 2016 longlist and the MTV Brand New for 2016 shortlist, and also won Best New Artist at the NME Awards.

http://www.ratboy.co.uk/
https://www.facebook.com/RatBoyRatBoy
https://soundcloud.com/ratboyratboy
https://instagram.com/RatBoyRatBoy