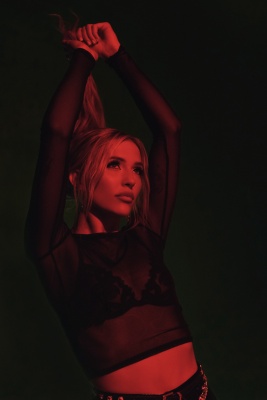 Lennon Stella
Kissing Other People
New Single Out Now.
LENNON STELLA RELEASES NEW SINGLE "KISSING OTHER PEOPLE"
AND ANNOUNCES 2020 UK AND EUROPEAN TOUR

INCLUDING TWO NIGHTS AT O2 SHEPHERD'S BUSH EMPIRE
Lennon Stella has announced her 2020 UK and European tour and has released her new single "Kissing Other People" via Insanity Records!
The song was written by Lennon Stella, Caroline Ailin, Simon Wilcox and Captain Cuts and produced by Captain Cuts and Malay. "Kissing Other People" will be featured on Lennon's forthcoming debut album and is her first single since collaborating with The Chainsmokers and ILLENIUM on their summer anthem "Takeaway."
Of the new single, Lennon Stella says: "This song came to life last summer in Cabo at a writing camp with all of my favourite writers and producers. Caroline Ailin and I were in an Uber driving home from a club and she asked me about boys. I said to her something about finally feeling like I was at a place where I could kiss someone else and not feel sorry about it or feel like I was doing something wrong. The next day in her session she started 'Kissing Other People' and then it turned into what it is."
Lennon is currently supporting The Chainsmokers and 5 Seconds of Summer on the "World War Joy" tour. The 41-date trek kicked off in Cincinnati, OH on 25/9 and concludes in Vancouver, BC on 6/12. See full list of Lennon Stella's upcoming 2020 tour dates in the UK and Europe below.
LENNON STELLA LIVE
February
5th - Norway, Oslo, Rockefeller
7th - Sweden, Stockholm, Fryshuset
8th - Denmark, Copenhagen, Pumpehuset
10th - Germany, Hamburg, Gruenspan
11th - Germany, Berlin, Columbia Theatre
13th - Germany, Munich, Technikum
14th - Germany, Frankfurt, Gibson
16th - Switzerland, Zurich, Kaufleuten
17th - Germany, Cologne, Gloria
19th - France, Paris, Le Trianon
20th - Belgium, Brussels, Le Madeleine
22nd - The Netherlands, Amsterdam, Melkweg
24th – Glasgow, SWG3 Galvanisers
25th – Manchester, Academy 2
26th - Ireland, Dublin, Academy
28th – Birmingham, o2 Institute
29th – Bristol, Anson Rooms
March
2nd – London, Shepherd's Bush Empire SOLD OUT
3rd – London, Shepherd's Bush Empire

About Lennon Stella
Each song safeguards a memory, preserving the moment behind melody. Lennon Stella transposes momentary feelings of longing, loss, love, nostalgia, and bliss into delicate, dynamic, and diaristic pop music. The Ontario-born and Nashville-based singer, songwriter, actress, and multi-instrumentalist catalogs her life in real-time with a pen, piano, and guitar. Lennon identified this aspect of songwriting as a child. Hailing from rural Ontario an hour east of Toronto, she came from a musical family. As Lennon recalls, "We grew up on a bunch of land with no television or internet—just music." At five-years-old, she picked up the guitar before eventually discovering piano. When she was 12-years-old, she rose to popularity as part of Lennon & Maisy, alongside her younger sister Maisy. Gaining national attention with a 2012 cover of Robyn's "Call Your Girlfriend," Lennon & Maisy achieved viral popularity to the tune of 100 million-plus YouTube views and just shy of 800,000 subscribers. She went on to star in the ABC/CMT smash Nashville as Maddie Conrad for six years.
In 2018, Lennon lent her voice to Jonas Blue's "Polaroid" with Liam Payne, which clocked 200 million total streams and counting. Kickstarting her solo career, the songstress introduced a singular style on the 2018 Love, me EP. It bowed in the Top 5 of the Billboard Heatseekers Albums Chart as the single "La Di Da" amassed more than 70 million Spotify streams and counting. After selling out dates on her first North American headline tour, she shared the stage with Anne-Marie and is currently out with The Chainsmokers and 5SOS. She also lent her voice to "Takeaway" by The Chainsmokers and Illenium, which exploded as a phenomenon with 100 million Spotify streams and 37 million views in under eight weeks.
Nodding to musical influences as diverse as Beach House, The 1975, Fleetwood Mac, The Beatles, and Andy Shauf and fashion inspirations from the sixties, seventies, and nineties, Lennon presents a new perspective on pop music reverent of yesterday, yet forward-thinking. "I'm always writing how I feel in the moment," she affirms. "Songs can be about anything from missing somebody to feeling nostalgic about my family. Either way, they're all human emotions. I tend to write in-the-moment. As soon as something happens, I'll start a song. The emotions are real when there's no filter and I'm chronicling my life as it happens." This perspective fuels her forthcoming debut album due out in 2020 via RECORDS LLC. / Columbia Records. Streamed nearly half-a-billion times this year with over 19M monthly listeners and pegged among Refinery29's "Young Celebrities to Watch in 2019" and Teen Vogue's "16 Musicians You Need to Be Listening to in 2019," Lennon hints at what fans can expect from her debut LP with lead- single "Kissing Other People." "When people listen to me, I hope they ultimately feel understood," she leaves off. "That's my favorite feeling when I listen to a song, I hope to create some sense of unity."

FOLLOW LENNON STELLA
https://www.facebook.com/lennonstellaofficial
https://www.lennonstella.com/
https://www.instagram.com/lennonstella/