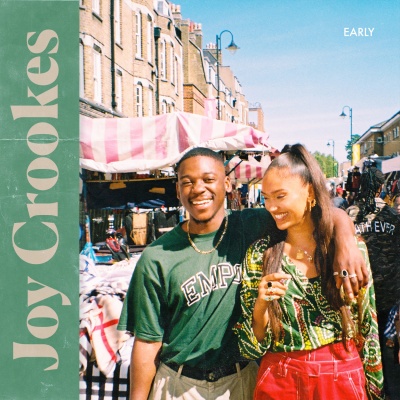 Joy Crookes
Early ft. Jafaris
New Single Out Now.
Joy Crookes
Shares brand new single 'Early' ft. Jafaris
Out now on Insanity Recordings / Speakerbox
Joy Crookes – who is fast becoming one of the nation's most exciting new stars – has released her brand new single 'Early' which features good friend Jafaris. The new single comes hand-in-hand with a recently announced brand new set of UK tour dates which include a stop at London's Earth on 5th November.
It's been an incredible year for Joy Crookes – the Elephant & Castle based singer, songwriter, producer and performer. She's released two EPs – 'Reminiscence' and the more recent 'Perception' – which have won her an overwhelming amount of acclaim from fans and critics across the globe. Her unique, fresh and modern approach to story-telling through song has seen her become a treasured and trusted new voice – speaking openly about the constantly-changing world she finds herself living in and encouraging people to look positively at their own surroundings.
'Early' is the start of Joy's next captivating chapter. Featuring fellow Irish artist Jafaris, 'Early' is a stunningly smooth statement of intent which finds Joy offering some smart, and beautifully delivered, words of advice to those considering opening up their hearts.
On writing 'Early', Joy says – "Early' was created when I invited Irish artist, Jafaris, over to my home to hang out around South London with me. I first noticed his work on Instagram - I was instantly a fan, and wondered what it would be like to create something with him. When we arrived, the fry up I cooked him was on the table, my best friends were round and we broke bread. I drove him and my friends through Peckham, Honour Oak and Forest Hill in the beaming sunshine and when we arrived back at mine, he was singing "I can't believe it". Neither of us knew what it meant but we clicked over the day and it felt easy to talk about what was going on in our lives. We exchanged advice about our past and present relationships and it fell into the song that is now "Early". It's wild to think the first time we met was on the day we wrote it, but it felt like I had known Jaf for years. We posted an Instagram snippet up and people loved it as much as us. I'm so happy to call it my next single."
After a Summer spent playing festival slots up and down the country (including Glastonbury, Latitude, Radio 1's Big Weekend and various others), Joy is currently preparing to get back on the road with a fresh string of tour dates. On 28th October, Joy will kick things off in Dublin, reach London's EartH on the 5th November before heading to Europe – the full tour dates are available below.
28/10 Sound House, Dublin (SOLD OUT)
30/10 Broadcast, Glasgow (SOLD OUT)
31/10 Deaf Institute, Manchester (SOLD OUT)
01/11 Rough Trade, Bristol (SOLD OUT)
04/11 Hare & Hounds, Birmingham (SOLD OUT)
05/11 eArth Hackney, London (SOLD OUT)
19/11 Musik & Frieden, Berlin (SOLD OUT)
20/11 Paradiso, Amsterdam (SOLD OUT)
22/11 Le Pop Up Du Label, Paris (SOLD OUT)
https://twitter.com/joycrookes
https://www.facebook.com/joycrookes/