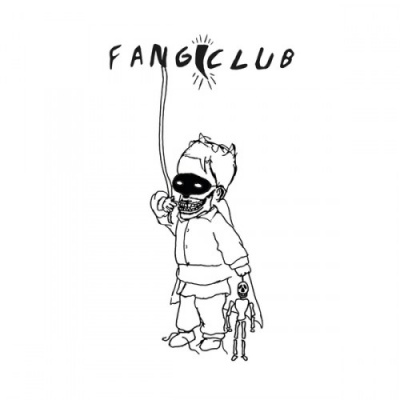 Fangclub
'Bullet Head' EP
New EP out May 13th 2016 on Universal Records!
Amps set to 11? Check. Kick drum like a hyperactive mule? Check. Killer melodies? Check. Choruses that once heard will never be forgotten? Check.
Brought together by their mutual love of punk and '90s grunge, Fangclub are the real, full-blooded rock 'n' roll deal, and a name you're going to be hearing an inordinate amount of in 2016 and beyond.
Already gathering major attention from specialist DJ's at BBC Radio 1 with their debut track from the EP "Bullet Head," a 'Song 2'-style short, sharp shocker that you want to play again the instant it's over.
Check out the lyric video here:
 "That's the one we always finish our set with, and which destroys the place!" enthuses their songwriter-in-chief and wielder of guitars, Steven King. "It's chaotic and a bit dark round the edges, which has something to do I think with me having an addictive personality."
The 5 track EP will be released on May 13th on Pre-Order it now:
https://itunes.apple.com/ie/album/bullet-head-ep/id1095746080
The band met through the local Irish music scene at house parties and supporting each other in previous bands. When Steven found himself with a lot of new demos but without a band he asked Kevin and Dara to fill the sonic void. "It was instant connection and completely organic" notes Dara.
If it was good in the rehearsal room, it was even better two months later when Fangclub made their live debut in the legendary Fibber Magee's. "From that first Dublin gig there's been a connection with an audience," notes bassist Kevin Keane. "Somebody might catch our set and come back to the next show with their mates. It might start with 30 people in a venue; next thing there's a hundred to 300 people singing the songs back to you and turning the place upside down. That's happened in Cork, in Dublin, in Limerick… all over Ireland"

With their live following growing by the week, several labels went to Whelan's to see what all the Fangclub noise was about and, like the sold-out crowd, were blown away. "Yeah, that was a crazy show!" Kevin nods. "People tend to think, 'Oh, there was a master plan to get a record deal', but we were so busy writing and gigging that we didn't pay that side of things much attention until suddenly."
The start of 2016 has found Fangclub working furiously – in every sense of the word! With the Bullet Head EP comprehensively nailed and its release highly anticipated, Fangclub will return to live duty with headliners on both sides of the Atlantic, and then hit the summer festival circuit with a July/August stop-off at Indiependence in Cork among their Irish dates. "We can't wait to get back out there," Steven concludes. "We can trade losing our minds in a studio for losing our minds on a stage".
Find more from Fangclub on-line:
Official Website:
http://fangclubofficial.com/
Twitter:
https://twitter.com/fangclubband
Facebook:
https://www.facebook.com/FangclubOfficial
YouTube:
https://www.youtube.com/user/fangclubofficial
Bandcamp:
https://fangclub.bandcamp.com/