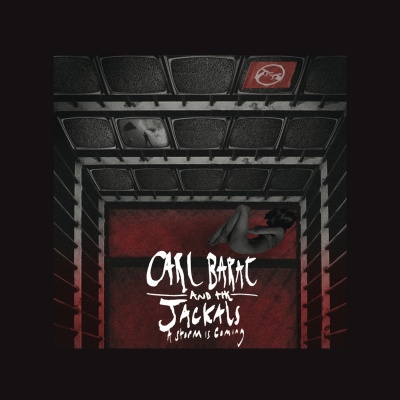 Carl Barat & The Jackals 
'A Storm is Coming'
Released 23rd February.
Carl Barât & The Jackals release a new single A Storm Is Coming through Cooking Vinyl Records on Monday 23rd February. The single is taken from the band's highly anticipated debut album.
Let It Reign, which is released a week earlier on the 16th February.
Let It Reign was recorded in LA and London and was produced by Joby J. Ford (The Bronx). It will be available on CD, vinyl and digital download.
The Full track listing for the album is:
•Glory Days
•Victory Gin
•Summer In The Trenches
•A Storm Is Coming
•Beginning To See
•March Of The Idle
•We Want More
•War Of The Roses
•The Gears
•Let It Rain
•The King Is Me (iTunes Bonus Track)
Having toured the UK in November the band have announced a US tour for March, and a UK tour in Spring 2015 will be announced shortly.
The Video for Carl Barât & The Jackals first single Glory Days (audio included in this campaign), released in November, is made in memoriam of the 306 British & Commonwealth soldiers shot for desertion during the Great War.
Watch the video here:
Carl Barât & The Jackals are: Carl Barât – vocals/guitar, Billy Tessio – Guitar, Adam Claxton – Bass Guitar and Jay Bone – Drums.

https://www.facebook.com/carlbarat
https://twitter.com/carlbaratmusic
https://www.youtube.com/channel/UCRrM9fmGDxyWmHApahPueHw
http://carlbaratandthejackals.com
http://instagram.com/carlbarat78