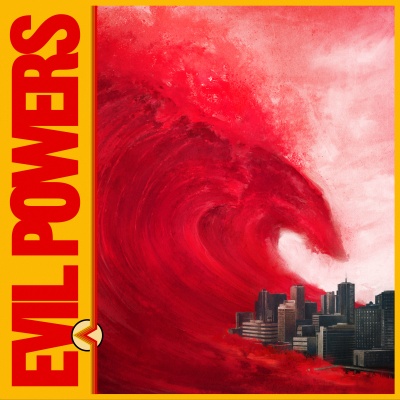 Bad Sounds
Evil Powers
New Single Out Now.
"A group that stands above the rest, they've found a way to combine their favourite aspects of each, carving out their very own space in the often-saturated music industry." Wonderland
"Zippy pop bang with a gently psychedelic side" Track of the Week, The Guardian Guide
"Bad Sounds are one of the most exciting new groups in the country, a band whose myriad of fresh sounds is matched by a stunning, creative, and highly imaginative live show.' CLASH
"blending the bombastic nature of A Tribe Called Quest's early material and the wicked storytelling ability of Jamie T." NME
Bad Sounds' new single 'Evil Powers' made its debut as Annie Mac's Hottest Record in the World, making this the band's 5th on Radio 1, and is the first to be taken from their forthcoming album, which will be released this Summer on Insanity Records. Said Bad Sounds, "Evil Powers is us discovering that every bad thing we've ever done was just bad juju. That time I said the worst thing of all was just demons after all."
Bad Sounds brothers Ewan and Callum are carving their own unique vision of what pop music is. The brothers put their style down to an obsession with crate digging, and a mismatched collection of old recording equipment.
While Callum developed his songwriting and recording skills working in studios with a range of different artists and genres, Ewan started making hip hop at 16 and spent his time binge watching 'Crate Diggers' and 'What's in my Bag?' on Youtube. It was only when the brothers started writing together that they saw the benefits of combining their different approaches and tastes to making music - Callum's soul, pop and R'n'B of Michael Jackson, Marvin Gaye and Curtis Mayfield with Ewan's Hip Hop background. Soon they were both spending all their time at their local record shop in hometown Chippenham, picking out records, listening out for breaks or unusual sounds to sample, which would become the seed to ideas for something fresh and their own. Combining Ewan and Callum's differing styles, they come together to create the colourful and unique world that is Bad Sounds.
Following on the from their sold out 10 date UK tour including London's Scala, Bad Sounds are playing an intimate free show at The Courtyard Theatre on the 8th May.
May
Sat 5 - Live at Leeds, Leeds
Sun 6- Hit The North, Newcastle
Tues 8- Courtyard Theatre, London (HEADLINE)
Fri 18 - The Great Escape, Brighton
Fri 25- Dot to Dot, Manchester
Sat 26- Dot to Dot, Bristol
Sun 27- Dot to Dot, Nottingham
July
Sun 1- Community Festival, London
Fri 7- Barn On The Farm, Gloucester
Sat 21- Truck Festival, Oxfordshire
Sun 29- Y Not Festival, Derby
August
Fri 24- Reading Festival, Reading
Sat 25- Leeds Festival, Leeds
https://www.facebook.com/realbadsounds/
https://twitter.com/realbadsounds
https://www.instagram.com/realbadsounds/