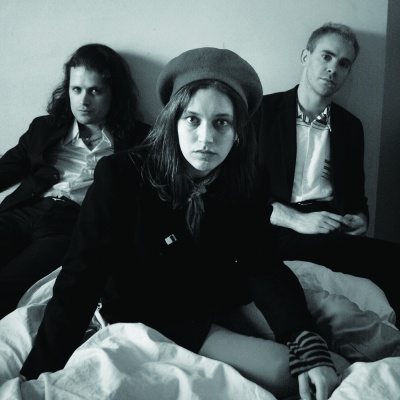 whenyoung
Pretty Pure
New Single Out Now.
"Completely thrilling and euphoric" i-D
"Bold and beautiful, we genuinely can't get enough." Wonderland
"Matching raw, punk-edged production to some fantastic pop hooks" Clash
Limerick's whenyoung have unveiled a stunning video for new single 'Pretty Pure', available to watch here:
Shot on location in Margate, the mesmerising clip stars the three piece, its emotional, intense story perfectly complimenting the cathartic core of 'Pretty Pure'.
Speaking about the video, whenyoung said: "Pretty Pure is about escaping the guilt which comes with not fulfilling others' expectations and escaping to a place of freedom and pureness. The video follows us fleeing, saying goodbye, feeling the woes of abandon and gathering important belongings before running to the sea which acts as a symbol of purity."
'Pretty Pure' follows whenyoung's debut single 'Actor', and once again showcases the trio's ability to harness a remarkably wide range of emotions, as delicate guitars and a driving rhythm section gloriously polarise under Aoife Power's meandering, fiercely impassioned vocals.
Whenyoung are also currently gearing up for a series of support slots throughout spring with Dream Wife, Husky Loops, Peace, The Vaccines, Public Access TV and Declan Mckenna. Tickets are on sale now, and the full list of dates can be found below.
'Pretty Pure' will be available as a limited edition 7" through YALA! Records.
More info on whenyoung
Whenyoung are Aoife Power (Vocals/ Bass), Niall Burns (Guitar), Andrew Flood (Drums). Their story started in Limerick ... three underage teenagers met for the first time after sneaking into Costello's Tavern: the only bar in town that floated their musical tastes. After bonding over cheap vodka and the sound of The Velvet Underground, they began playing music together and moved to Dublin to seek some big city excitement. Developing their sound, still with a DIY approach, the band moved to London and last year became whenyoung.
On stage, whenyoung perform a dizzying rock show where Aoife's dreamy, heart-in-the-mouth vocals fizzle between swigs of Guinness and infectious guitar riffs. Their manager Mairead says: "When I see this band live it ignites that thing inside that makes me fall in love and wanna wrestle my way to the front of the gig". Aoife mesmerises on stage, and critics have compared her to "Suzi Quatro in her heyday, bashing out throbbing bass lines".
The band's passions pulse through the veins of whenyoung and their influences could almost be picked from a collage page in a retro zine; charity shops and DIY fashion, the style of Marlon Brando, Richard Hell and Georgia O'Keefe, films by Jim Jarmusch, Jean Luc Godard, and Eric Rohmer, books by Hemingway, Paul Auster and Patti Smith, as well as musical heroes like Brian Eno, The Smiths and The Cure.
See whenyoung live on the following dates...
March
20th - The Exchange, Bristol (with Dream Wife)
21st - Heaven, London (with Dream Wife)
24th - Deaf Institute, Manchester (with Dream Wife)
25th - Workman's Club, Dublin (with Dream Wife)
April
5th - Forum, London (with Declan Mckenna)
6th - Academy, Manchester (with Declan Mckenna)
14th - Alexandra Palace, London (with The Vaccines)
May
4th - Jimmy's, Manchester
8th - St. Luke's, Glasgow (with PEACE)
9th - Leadmill, Sheffield (with PEACE)
11th - Fibbers, York (with PEACE)
12th - The Venue, Derby (with PEACE)
13th - Welly, Hull (with PEACE)
15th - Norwich, The Waterfront (with PEACE)
16th - Kentish Forum, London (with PEACE)
19th - Engine Rooms Southampton (with PEACE)
23rd - Dryden Social, Leicester (with PEACE)
24th - Birmingham 02 (with PEACE)
https://www.facebook.com/whenyoungband/
https://twitter.com/whenyoungband
https://www.instagram.com/whenyoungband/