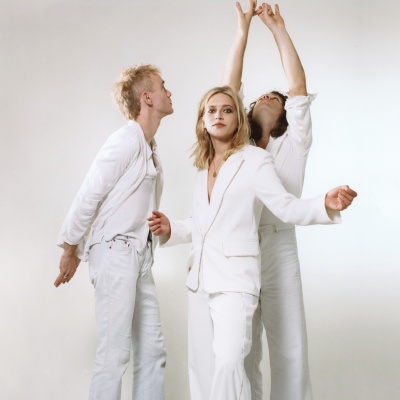 whenyoung
Never Let Go
New Single Out Now.
"This trio are building their own world of giddy escapism wherever they go. Dive in." DIY
"We've seen the future of indie pop and it looks a lot like whenyoung" Dork
"The group's hypnotising songwriting style shines through." Rollacoaster
Following the release of their critically acclaimed debut EP, 'Given Up', whenyoung are back with an epic new single, 'Never Let Go', released through Virgin EMI.
Watch the video here:
A massive slab of joyous guitar-pop, 'Never Let Go' finds the band expanding their sound. Produced by Al O'Connell (The Big Pink, Superfood), the slow burning track features layers of chiming guitar and vocals, creating a wall of sound that beautifully compliments Aoife's evocative lyrics.
"It's a song about mental health and hope" she explains. "It's a message to let people know that you can share your pain with others. It's a reminder that someone is always there for you even in the darkest times. There is always a reason to not let go."
2018 was a landmark year for the young band. It saw them perform in Dublin as part of Shane McGowan's 60th birthday celebration alongside the likes Nick Cave and Sinead O'Connor. They played a stunning set at the Other Voices festival and they've also supported Dream Wife, The Vaccines and Blossoms.
Not ones to rest on their laurels, the band are kicking off 2019 with a UK tour in February, including their biggest headline show in London to date at Electrowerkz in Angel. Not to mention they'll be heading out to The States to play the iconic South by South West Festival in Austin,Texas.
More info on whenyoung
whenyoung are Aoife Power (Vocals/ Bass), Niall Burns (Guitar), Andrew Flood (Drums). Their story started in Limerick ... three underage teenagers met for the first time after sneaking into Costello's Tavern: the only bar in town that floated their musical tastes. After bonding over cheap vodka and the sound of The Velvet Underground, they began playing music together and moved to Dublin to seek some big city excitement. Developing their sound, still with a DIY approach, the band moved to London in 2017 to become whenyoung.
TOUR DATES

9th February – Rough Trade – Bristol (14+)
10th February – Deaf Institute – Manchester (14+)
11th February – Poetry Club – Glasgow (14+)
12th February – Hare and Hounds – Birmingham (14+)
13th February – Electrowerkz – London (16+)
26th May – Neighbourhood Weekender – Warrington
https://www.facebook.com/whenyoungband/