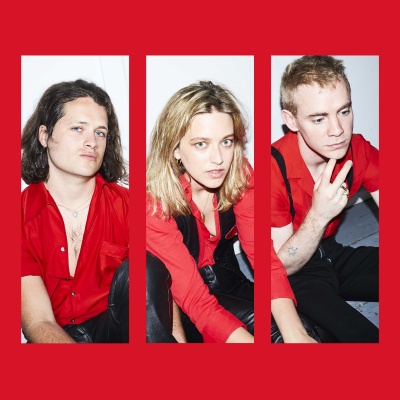 whenyoung
Heaven On Earth
New Single Out Now.
"Already destined for rock n roll greatness" Time Out London
"Completely thrilling and euphoric. Whenyoung are great." i-D Magazine
"A multi-faceted proposition" Dork
"Bags of potential." NME
"They're operating like a band with the confidence of years of experience under their belts." 405
Watch the video here:

The video was directed by lead singer Aoife Power, and is based on the 7 deadly sins; we see the band explore facets such as greed and vanity before eventually turning demonic.
"Heaven On Earth is our take on the idiom "one man's meat is another man's poison". The song describes how one person's idea of heaven is another person's idea of hell. The video was inspired by the unfinished film L'Enfer by Henri-Georges Clouzot which is based on Dante's Inferno. We were really impressed by the experimental cinematography used in this film and wanted to borrow some of the effects used." whenyoung.
Heaven on Earth follows on from whenyoung's captivating singles 'Actor' and 'Pretty Pure', released on Yala Records, and their first track on Virgin EMI. 2018 has already been a landmark year for the young band. It's seen them perform in Dublin as part of Shane McGowan's 60th birthday celebration alongside the likes Nick Cave and Sinead O'Connor, and opened a show for Nick Cave and Patti Smith in Dublin. They've also supported Dream Wife, Declan McKenna, The Vaccines and Peace and graced the stages of The Great Escape, Field Day and All Points East. The Limerick band still have a packed Summer full of festival appearances including Kendal Calling and Bestival before heading out on an Autumn tour.
Whenyoung are Aoife Power (Vocals/ Bass), Niall Burns (Guitar), Andrew Flood (Drums). Their story started in Limerick ... three underage teenagers met for the first time after sneaking into Costello's Tavern: the only bar in town that floated their musical tastes. After bonding over cheap vodka and the sound of The Velvet Underground, they began playing music together and moved to Dublin to seek some big city excitement. Developing their sound, still with a DIY approach, the band moved to London in 2017 to became whenyoung.
UPCOMING LIVE DATES
14th July – Latitude Festival – Suffolk
20th July - Deer Shed Festival - Thirsk
21st July - Truck Festival, Oxford
27th July - Kendal Calling - Kendal
28th July - Y Not Festival - Pikehall
3rd August -Neverworld - Tunbridge Wells
4th August – Bestival – Dorset
5th August - All Together Now - Co Waterford
26th September - The Key Club - Leeds
27th September – EBGBs - Liverpool
28th September - Think Tank - Newcastle
3rd October - The Boiler Room – Guildford
4th October - The Purple Turtle – Reading
5th October - The Cookie – Leicester

https://www.instagram.com/whenyoungband/
https://twitter.com/whenyoungband
https://en-gb.facebook.com/whenyoungband/