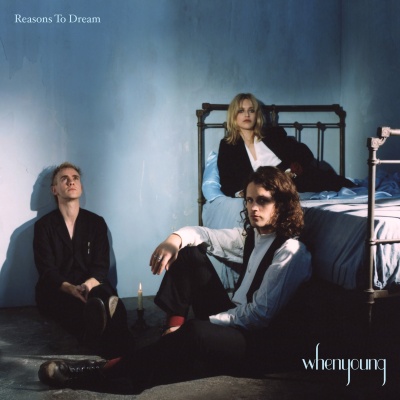 whenyoung
Future
New Single Out Now.
RELEASE DEBUT ALBUM 'REASONS TO DREAM' ON 24th MAY THROUGH VIRGIN EMI
WATCH THE VIDEO FOR BRAND NEW SINGLE 'FUTURE' HERE:
"Indie pop headed skyward" - DIY
"Already destined for rock n roll greatness" Time Out London
"Completely thrilling and euphoric. Whenyoung are great." i-D Magazine
"Immaculate pop confection." Clash
"Bags of potential." NME
"whenyoung reveal a deftly-executed slice of anthemic indie pop" Line of Best Fit

London's (via Limerick) premiere indie songsmiths, whenyoung have announced they will be releasing their highly anticipated debut album, 'Reasons to Dream', through Virgin EMI on the 24th May.
In anticipation of the album release they've dropped new single 'Future', a chiming rocker which tells the story of a close friend who sadly took their own life, while also striving to find a message of hope in the darkness.
The video was directed by award winning short film maker Michael Baldwin and stars young actor Badger Skelton, who featured in Tom Beard's critically acclaimed 'Two for Joy.' It takes inspiration from Wim Wenders' New German Cinema classic, 'Wings of Desire', showing the trials of suburban youth in stark monochrome.
The culmination of years of playing and writing together, 'Reasons to Dream' showcases Aoife Power's (bass/vocals), Niall Burns' (guitar) and Andrew Flood's (Drums) ability to craft spikey yet melodic songs which delve lyrically into everything from love and insecurities to pacificism and the gap between the haves and have-nots in Britain today.
"'Reasons To Dream' is a presentation of our collective experiences of life since we have moved to London" The band explain. "We've trundled through many jobs, flats, neighbourhoods and rehearsal rooms learning, practising, maturing and cultivating whatever it is we do along the way. We've gone from knowing nobody to making close friends, from finding it lonely to finding it welcoming."
Alongside previously release singles 'Pretty Pure' and the anthemic 'Never Let Go' it features brand-new tracks such as the touching 'Labour of Love' and the evocative 'Blow Up the World', based on a line by the French anti-war philosopher Simone de Beauvoir.
Elsewhere, the band demonstrate a beautiful ability to mix a darker lyrical slant with tunes made for cutting shapes in darkened rooms. 'You're Grand', for example, is a classic piece of driving jangle-pop masking lyrics about staying up all night as an escape from anxiety and insomnia.
One of the most affecting tracks on the album is the recording of live favourite 'The Others.' Written following Aoife's time working as a gardener for a politician in Kensington, it was the tragedy of the Grenfell tower fire that inspired this caustic attack on the disparity of how the richest and poorest in society can live so close but be so separate.
The album marks the next milestone in a journey that started for the band when they first met as teenagers in Limerick, Ireland. After playing in separate bands around the local scene for several years, they eventually all found themselves in London and the band that was to become whenyoung was formed, inspired by a healthy mix of the music they all loved their favourite classic cinema and literature.
Since then the band have gone from strength to strength, gaining the support of BBC Radio 1 Introducing, gracing stages at festivals everywhere from the Great Escape in Brighton to Reeperbahn in Germany and touring up and down the UK and Ireland. They were guests at Shane McGowen's 60th birthday, Supported Nick Cave in Dublin and were invited to play at the Barbican centre in London as part of a celebration of Ireland's rich cultural legacy. 2019 looks set to be the year the band break into the wider consciousness, with the release of their debut, their first American shows (including several at the prestigious South by South West Festival) and a plethora of other international shows.
Reasons to Dream
1) Pretty Pure
2) Never Let Go
3) The Others
4) A Labour of Love
5) You're Grand
6) Blow up the World
7) Blank Walls
8) Future
9) In My Dreams
10) Heartbroken
11) Something Sweet
Tour Dates
4th May – Live at Leeds Festival – Leeds
5th May – Handmade Festival - Leicester
6th May – Mchugh's – Belfast
7th May – Whelan's – Dublin
25th May – This is Tomorrow Festival – Newcastle
26th May – Neighbourhood Weekender Festival – Warrington


For more information on whenyoung follow:
https://www.facebook.com/whenyoungband
https://twitter.com/whenyoungband