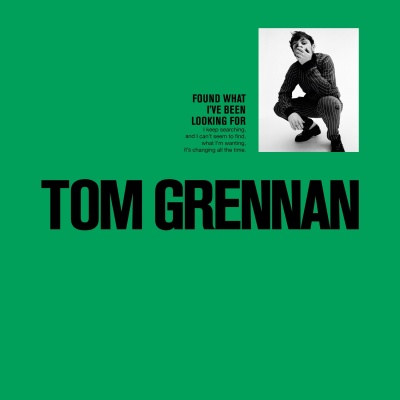 Tom Grennan
Found What I've Been Looking For
New Single Now On Radio 1 & Radio 2 Playlists.
"gruff-voiced troubadour has some scorchers, including the swaggering Barbed Wire, the passionate Little by Little Love and the Rag'n'Bone Man-like Aboard." The Sunday Times
"Signature gravelly voice is the making of him, enhanced by sharp production" * The i / The Independent
"He wrestles with gigantic ballad Run in the Rain and wins, but it's when clams down a bit, as on the title track with it's jaunty "na-na-na" chorus, that Grennan emerges as a craftsman too" * Q Magazine
"With a voice that's somewhere between Paolo Nutini and Finley Quaye with the swagger of Liam Gallagher, Tom Grennan is a star in the making" * The Sun
"The DNA of 'Lighting Matches' has strands of the streetwise snarl of Jamie T, the graceful grit of Amy Winehouse, the cinematic backing pomp of early Florence and the Bond theme meets neo-soul scale of John Newman (when he was good)." * NME
"Found What I've Been Looking For' marries soulful bluster to rattling rhythm and sets the paces for a record that's not overburdened by balladry." * Evening Standard
Just weeks after the release of his debut album Lighting Matches, we can announce that Tom Grennan has SOLD OUT London's Brixton Academy. Grennan has become one of only four British artists this year to take their debut album Top 5, his October tour has over 30k tickets combined and this summer he'll have appeared at 14 UK festivals, performing in front of over of over half a million people, making him one of the hottest tickets in the UK at the moment.
His current single is the thunderous Found What I've Been Looking For, which was used as the title music to Sky Sports' Premier League coverage last year and lined up to do the same again this coming season. It's racked up over 30 million streams and is one of the firm live favourites.
Found What I've Been Looking For is the follow-up single to Sober and Barbed Wire, both of which featured on Radio 1, Radio 2, Radio X, Absolute and Virgin daytime playlists and saw him break into the Top 40 airplay charts.
The debut album released on Insanity Records is a personal journey for Grennan, exploring sobriety, love, depression, loneliness and reveals an openness and vulnerability ahead of his years. 'Lighting Matches' sees Tom working with Grammy award winning producer Fraser T Smith (Stormzy / Adele / Kano / Plan B), Dan Grech (Liam Gallagher / Killers / Radiohead) and Eg White on the incredible track 'Aboard' and is set to be one of the most important albums of 2018.
EURO TOUR
18 Sep - Le Cafe De La Danse - Paris
19 Sep - Ancienne Belgique - Brussels
21 Sep - Melkweg - Amsterdam
23 Sep - Den Ateller - Luxembourg
25 Sep - Schalchthof - Wiesbaden
26 Sep - Technikum - Munich
27 Sep - Grelle Forelle - Vienna
29 Sep - Gretchen - Berlin
30 Sep - Way Back When Festival - Dortmund
01 Oct - Mojo Club - Hamburg
SOUTH AFRICAN TOUR
05 Oct - Rocking The Daisies - Cape Town
07 Oct - In The City Festival - Johannesburg
UK TOUR
10 Oct - Newcastle, Northumbria Institute
11 Oct - Leeds, O2 Academy
12 Oct - Manchester, Manchester Academy
14 Oct - Bristol, O2 Academy
15 Oct - Southampton, 02 Guildhall
16 Oct - London, O2 Academy Brixton
18 Oct - Oxford, 02 Academy
19 Oct - Leicester, 02 Academy Leicester University
20 Oct - Liverpool, 02 Academy
21 Oct - Norwich, UEA
23 Oct - Birmingham, 02 Academy
24 Oct - Sheffield, 02 Academy
25 Oct - Margate, Winter Gardens
28 Oct - Belfast, Limelight2
https://www.facebook.com/TomGrennanMusic/
https://twitter.com/Tom_Grennan