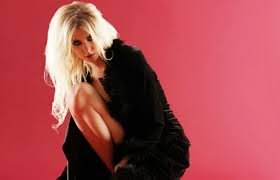 THE PRETTY RECKLESS
GOING TO HELL
THE PRETTY RECKLESS are currently working on their second studio album, due for release in 2014. The group have premiered a new track, entitled "Going To Hell" which is taken from the new album. It is available instantly to buy via iTunes and you can see the video, directed by Tim Mattia (Marilyn Manson, Cage The Elephant, Young Guns) here:
http://www.vevo.com/watch/the-pretty-reckless/going-to-hell-official-music-video/USRZR1373903
"The new video for 'Going to Hell' captures the right look for the sound of the band," says MOMSEN. It's a subtle blast of sins and rock and roll, meant to be watched over and over until the real meaning of the song sinks in. We're psyched for it to come out and for the fans to see it."
So far THE PRETTY RECKLESS has previewed three songs off GOING TO HELL on their website Goingtohell.xxx, that was launched with a haunting album trailer, followed by the lyric video for the bracing "Follow Me Down" and a teaser for "Burn." The latter song shows another side of the hard rocking band. Against a lone acoustic guitar, MOMSEN vocally digs deep into her lyrics about a dark, fractured relationship. Taylor sat down with Rollingstone.com to recount the process of recording this album after having to start over following Hurricane Sandy's wrath that ravaged their studio; check out the interview here: http://tinyurl.com/ncpznvk.
THE PRETTY RECKLESS formed in 2009 and released their debut album LIGHT ME UP in 2010 and a follow-up EP HIT ME LIKE A MAN in 2012. After two years on the road supporting LIGHT ME UP, the band has risen through rock 'n' roll's ranks to become a polarizing presence. Over the course of their debut and EP, the quartet has sold over 1 million combined albums and digital tracks and have supported Evanescence, Guns N' Roses and Marilyn Manson on tour in addition to headline runs in both the U.S. and Europe. Now, MOMSEN and her bandmates are delivering nothing short of killer performances on their current "Going To Hell Tour" with a set list including new material off GOING TO HELL and the group's debut LP LIGHT ME UP.
THE PRETTY RECKLESS are currently on a month long US tour. Expect UK tour news in 2014.
For more information on THE PRETTY RECKLESS:
http://goingtohell.me/hell/ www.facebook.com/theprettyreckless https://twitter.com/taylormomsen http://www.youtube.com/tprofficial