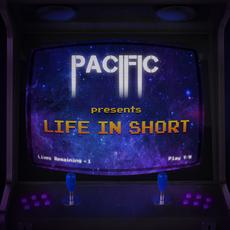 Pacific
Life in Short
New single out now
Pacific are back with their outstanding new single 'Life in Short', set to be released this summer.
Fast rising through the ranks of the UK music scene, Pacific are one of the most hotly tipped acts of the moment. Fresh off the back of their early 2017 single release 'Blinded' - described by reviewers as "anthemic vocals, addictive guitars and euphoric moments" - Pacific's energetic brand new single cannot arrive swiftly enough.
The band's debut EP was championed by BBC Radio 1's Huw Stephens, who played lead single 'Time to Forget', tipping them as being an exciting young band to watch. In addition, the band has received strong backing from other areas of the BBC, such as BBC 6's Mark Radcliffe, who praised the band's music as "outstanding" and BBC Introducing's Rob Adcock, who has invited the band for live interviews and sessions.
Furthermore, Q Magazine recently featured Pacific and NME have shared the band's music videos. It's no wonder we're expecting huge things from this essential young band. Pacific have made huge steps on the live circuit in the past couple months, sharing the stage this year with the likes of Newton Faulkner, Natives, Razorlight, Scouting for Girls, Wheatus and more.
'Life in Short' offers the next taste of the band's fresh and exciting new material for 2017. With more fantastic new tracks set to be revealed over the coming months with their big melodies, energetic grooves and anthemic sound, it is highly recommended keeping Pacific on your radar.
"I think (Pacific) are in another league... Wonderfully well-crafted songs, with a vocal that's nectar for the ears" - Bauer Media News
"Competent sounding Pop/Rock with a hint of Alt. in there. I must confess the very strength of the melodious Anthony Orzel (singer) and the fact that this is a decent song won me over, I will be keeping an eye!" - Simon Li of Universal Music
"Up-beat, beautiful pop-rock with the most addictive vocals. Those Orzel brothers sound irresistible!" - Polly James, Capital Radio
www.pacificofficial.com
www.facebook.com/pacificofficial
@pacificofficial