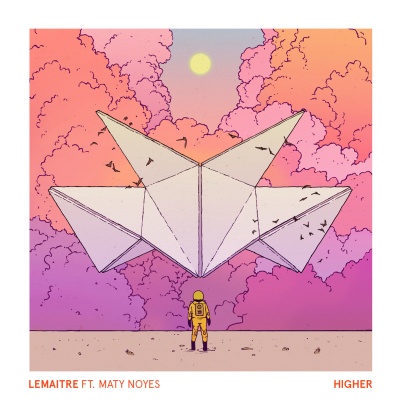 LeMaitre
Higher
New Single Out Now.
Norwegian duo Lemaitre have just released their latest single "Higher".
Coining their stage name from the founder of the big bang theory, Georges Lemaître, the rising producers have grown in popularity, and gained recognition for their flexibility in creating anything from electro house to their distinct take on future bass. Featuring vocals from Maty Noyes, the catchy lyricist from Kygo's chart-topping single "Stay", Lemaitre intertwines innocent verses with an unsuspecting bass twist that draws listeners in with every pulsing beat.
The duo have already gained more than 60 million streams to date with their infectious tracks which have been featured in a variety of commercials and promos. Notably, "Higher" has already gained traction when a 16 second clip of the track was featured in a promo for Apple Watch Series 2.
'Higher' follows Lemaitre's early 2016 EP, 1749, which contained "Closer" featuring Jennie A. The track has upwards of 22 million streams on Spotify and was licensed by PayPal, Facebook, Tropicana and British Telecom. Dancing Astronaut said, "Lemaitre uses sultry vocal work, elegant piano melodies and striking guitar riffs to create an indie dance feel that is ripe with emotion." Interview Magazine observed, "Lemaitre is ready to fully conquer the U.S. The indie-electronica outfit mixes funk, disco and electronic elements to feel-good effect."
About Lemaitre:
Lemaitre are Norway's latest entry into the smooth, melodic electronic tradition of artists that temper their electronic grooves with adept pop songwriting. "We want to walk the line," explains Ulrik Denizou Lund, who along with Ketil Jansen is Lemaitre, "and do everything from a loop-based song to straight pop or rock songs that have more structure." Lemaitre have more than a million followers on SoundCloud, and the duo's 2012 EP, Relativity 2, shot to No. 1 on the iTunes Electronic chart in the U.S. and Canada. They number among their fans some of dance music's biggest artists — Porter Robinson, Madeon, Kygo and Martin Solveig to name a few. Robinson took them on tour last summer. Lemaitre's music is finding outlets beyond the dance floor as well. In September 2013, their song "1:18," from The Friendly Sound EP, was used as a synch in an ad for the Apple iPhone 5C.