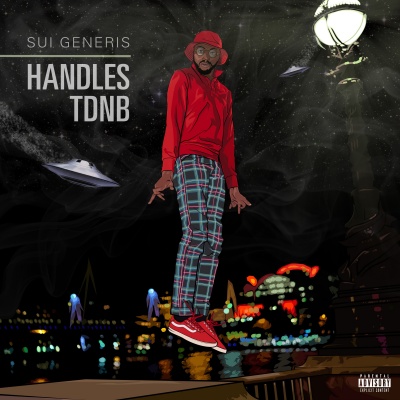 Handles TDNB
Sui Generis EP
Debut Single & EP Out Now.
Who is Handles TDNB?
A West London based artist with a unique charismatic flow and fashion style. He has put in a lot of groundwork, selling over 60,000 mixtapes on the streets of London, Paris and Denmark.
He has now released his first single, SURREAL, alongside an EP, SUI GENERIS, with the aim to expand and introduce the world to Handles TDNB.
After supporting AceHood at the 02 Indigo, Handles and his crew, TDNB, then went on to be featured on the likes of BBC 1 MOBO, Huw Stephens Radio show, Complex, MTV UK plus many more.
Last year, Handles released his first independent mixtape "QwaY (Quarters Wax And Yach)" and kicked off with a debut video for the leading single of the Mixtape entitled "PiffiN Till I OD 2".
The success of his first independent mixtape saw him supporting New York rapper Ken Rebel, doing shows in Paris & London during this time. Handles has also been building a strong reputation in the fashion industry, as he is affiliated with top brands, supermodels, stylist & fashion bloggers such as The Brand Off White, supermodel Jourdan Dunn, stylists, fashion icon Ian Connor, fashion blogger Fire Chulo plus many more. This led him to be on tour with Skepta and ASAP Mob.
Handles has just finished his first performance abroad where he was the Headline Act for Midnight Sessions in Dusseldorf, Germany.
What is TDNB? It means To Dream N Believe. It's a lifestyle/music/fashion collective started by longtime friends, Handles, Fonzie & Magic. Their aim is to bring together all of their ambitions and dreams into one empowering force.
https://www.facebook.com/TODREAMNBELIEVE
https://twitter.com/HandlesTDNB