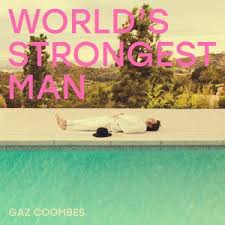 Gaz Coombes
Walk The Walk
New Single Out Now.
Gaz Coombes has released the second track from his forthcoming album World's Strongest Man.
Built from a twisted bassline, space-aged gospel vocals, swooping strings and lo-oscillating synths Walk the Walk is a sleek, sinewy and thoroughly addictive mediation on the dangers created by, as Gaz says, all of the "misguided, delusional men that are making the world worse for everyone else" – the unstable men who seem to be in positions of power all over the planet.
The follow up to Deep Pockets, Walk the Walk is taken from Gaz's third solo album, World's Strongest Man, described by Mojo as "continuing proof that the 42 year old Gaz Coombes' best work is happening in the here and now" (4*).

Gaz Coombes has announced a series of solo in-store shows across the UK to tie in with the release of the album:
May
Thu 3rd London, Rough Trade East, 7pm
Fri 4th Nottingham, Rough Trade, 7pm
Sat 5th Kingston, Banquet Records, 2pm
Sat 5th Oxford, Truck Store, 6pm
Sun 6th Brighton, Resident, 6pm
Wed 9th Bristol, Rough Trade, 7pm
Thu 10th Sound Knowledge, Marlborough, 7pm
Gaz then heads out on a previously announced UK tour later that month:
Thu 17th - The Garage, Glasgow
Fri 18th - Arts Club, Liverpool
Sat 19th - Church, Leeds
Mon 21st - O2 Institute 2, Birmingham
Tue 22nd - The Trinity Centre, Bristol
Wed 23rd - Palladium, London
Fri 25th - The Academy, Dublin
https://www.facebook.com/GazCoombes/
https://twitter.com/GazCoombes