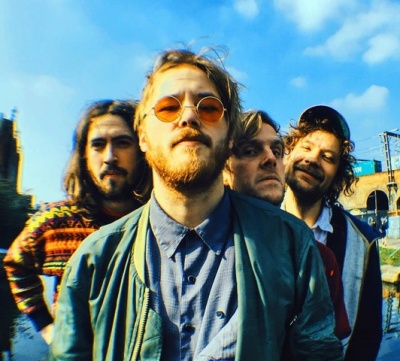 Francobollo
Future Lover
New Single Out Now.
- "Sweden via London group bring a playful edge to theatrical pop" - DIY
- "One of the country's wildest, weirdest bands" - NME
- "This Swedish 4-piece prove that indie is definitely not dead" - NOTION MAGAZINE
- "Wonderfully off kilter Swedish indie pop"- CLASH MAGAZINE
- "Francobollo create jubilation...successfully fusing weird and wonderful together." - THE LINE OF BEST FIT
- "Sporting the slacker sentiments of Mac DeMarco and the untameable riffs of Pavement...Francobollo's charm is their ability to scuff over the details and initiate you into their irresistible movement of not giving a shit" - LONDON IN STEREO
Francobollo have announced the release of new single 'Future Lover' alongside a curious animated video for the track.
A live favourite and endearing highlight from their critically acclaimed debut album Long Live Life - 'Future Lover' rises and falls, building to a crescendo of gorgeous harmonies and ferocious guitar runs.
Watch the animated clip for 'Future Lover' here:
Animated by Sufiyan Salam and Anna Smith - producer Luis Hindman said this on the 'Future Lover' animated film: "The video concept began with strange drawings and illustrations which were later incorporated into the surreal deranged world of the song and video"
Speaking on the track, frontman Simon Nilsson said: "If Long Live Life was a musical, this song would be the finale of the 1st half, and the opening of the second. It's a song about the ever confusing thing called Love."
Possessing an irresistible charm, an undeniable wit, and an infectious personality shining through within their schizophrenic, adventurous brand of indie rock; Francobollo are a joy to behold, but the journey to the release of their debut full-length album has neither been a quick, or easy ride.
'Long Live Life', the band's debut album is the culmination of nearly 7 years of hard graft, and the much-anticipated 12 track release is most definitely worth the wait.
Seamlessly switching from mellow, beautifully constructed melodic instrumentals - into wild, explosive moments of raucous brilliance - there's a surprise around every corner within Francobollo's music and songwriting, all executed with an undeniable measure of passion and grit.
Francobollo originally met at school in Lund, Sweden. After moving to London together, they played and recorded as session musicians for bands such as Slow Club, LA Salami and members of Mystery Jets.
A live show styled at North London Warehouse parties, now takes to much larger stages across Europe and beyond. Their mischievous live set, is like a child like celebration of everything you find fun in life; Francobollo are the riot you can take home to meet your Mum.
The album itself was a test as to how to capture the band's onstage spirit - which they're now widely renowned for. This resulted in an unorthodox approach to recording the majority of the album - in front of a live audience, with an aim to inject the Francobollo personality into the recordings, which they've 100% achieved.
Following a run of festival appearances over the summer including spots at the likes of Reeperbahn, Eurosonic, Green Man, Lee Fest, Kendall Calling, The Great Escape, Blissfields and more, the band have just completed a UK headline tour and are now set to head out on a huge European tour.
Instantly identifiable as Francobollo, the Swedish quartet hint at inspiration from the likes of Pavement, Built To Spill and Grandaddy, without ever disregarding their own originality.
Mercury Prize and Brit Award winning producer Charlie Andrew (Alt-J, Marika Hackman, Benjamin Francis Leftwich, Sivu etc.) took great interest in the band after seeing them play live a few years back, and is at the production helm for the band's debut album. He also is the founder and owner of Square Leg Records. 'Long Live Life' is the second release on the label.
Having already enjoyed exceptional support from the likes of NME, DIY Magazine, CLASH Magazine, NOTION Magazine, London In Stereo, The Line Of Best Fit, Dork, Gold Flake Paint, Ja Ja Ja, as well as receiving backing from Radio 1, 6 Music, Radio X, Beats 1 and more - the band are undoubtedly set to make a huge impact over the next 12 months and beyond.
https://www.facebook.com/francobollouk/
https://twitter.com/Francobolloland