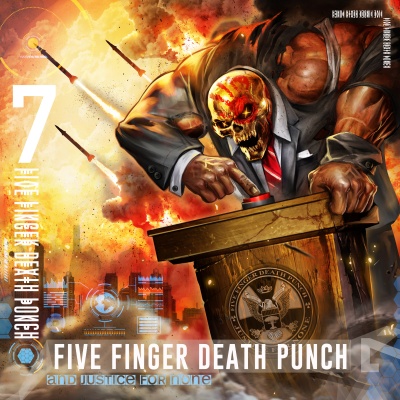 Five Finger Death Punch
Sham Pain
From The New Album 'And Justice For None'.
FIVE FINGER DEATH PUNCH have released their highly anticipated seventh studio album AND JUSTICE FOR NONE. For the new album--their first full length since 2015's Got Your Six--the group re-teamed with longtime producer Kevin Churko (Ozzy Osbourne, Disturbed) and once again stepped up their game. With their customary airtight riffs, muscular grooves and seismic melodies, FIVE FINGER DEATH PUNCH maintain their signature intensity, all while pushing themselves into new territories on AND JUSTICE FOR NONE.
AND JUSTICE FOR NONE has reached streaming milestones in the five songs released prior to its official street date leading with first single "Sham Pain" which has reached the #2 slot on iTunes' Metal Songs chart and debuted Top 10 on the U.S. Rock Song Chart. To date, the song has received over 3 million streams. Watch the band's official video for the song - a visual interpretation of the track's tongue-in-cheek-message about life on the road here:
2018 marks the beginning of new chapter in the history of the multi-platinum hard rock quintet featuring--Ivan Moody (vocals), Zoltan Bathory (guitar), Jeremy Spencer (drums), Jason Hook (guitar), and Chris Kael (bass). The group overcame a well-documented legal battle with their label alongside a near break-up only to defy the odds and to come back together stronger than ever.
The band has garnered over 1.3 billion streams on Spotify since 2015, daily out-streaming iconic peers such as System of a Down, Iron Maiden, Korn, Slipknot, and Black Sabbath. FIVE FINGER DEATH PUNCH are streaming only second to Metallica in their genre and are out-streaming mainstream artists including U2, Radiohead, and Muse on a daily basis.
Having completed a Spring tour with Shinedown, Starset, and Bad Wolves, FIVE FINGER DEATH PUNCH will kick off what will be the biggest rock tour of the year with co-headliners Breaking Benjamin and special guests Nothing More and Bad Wolves in July. The summer amphitheater tour launches July 16 in Seattle crisscrossing arenas in 32-cities nationwide through mid-September.
About Five Finger Death Punch
Confidently leading heavy music in the 21st century, Five Finger Death Punch continue to make the impossible a reality at every turn. Since their emergence in 2007, the hard rock band has achieved six consecutive RIAA Gold-certified albums, three of which have gone Platinum since, as well as a Platinum single culminating in their 2015 #1 album GOT YOUR SIX, while at the same time being one of the top rock streaming acts with over 2 billion global streams to date. In 2016, the band also received the prestigious "Soldier Appreciation Award" from The Association of The United States Army. 5FDP frequently play all major festivals globally from Download to Rock Am Ring to Rock on the Range and sell out arenas around the world to countless screaming "Knuckleheads." Their 2017 Greatest Hits album A DECADE OF DESTRUCTION, boasts two new singles, amongst them "Gone Away", a cover of the 1997 song by The Offspring which is currently storming the rock charts. 5fdp's forthcoming seventh full length album, AND JUSTICE FOR NONE, to be released on May 18, 2018 will undoubtedly raise the bar again. The band will emerge on the biggest North American amphitheater rock tour of 2018 from July through September.
WEBSITE: www.fivefingerdeathpunch.com
FACEBOOK: www.facebook.com/fivefingerdeathpunch
INSTAGRAM: www.instagram.com/5fdp
TWITTER: https://twitter.com/FFDP
YOUTUBE: https://www.youtube.com/channel/UCQjw3b3Ay5zMmEHUAxL93Rw