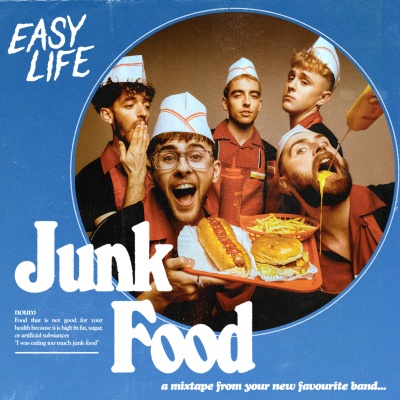 Easy Life
Dead Celebrities
From 'Junk Food' Mixtape Out Now.
Watch the video here:
Number 2 in BBC Music Sound of 2020
'Junk Food' mixtape released 10th January, Roundhouse date sells out
"Properly original, Easy Life slide into your consciousness and immediately put down roots" Sunday Times, Breaking Act
"Poised to be the UK's next big band" GQ
"One of the most buzzed about bands...undisputed bops" Wonderland
"Easy Life aren't like any other band you've heard before" COLORS
"Blending sensual slow-jams with genuine pop hits...the leaders of the pack" NME
Easy Life have released their new single 'Dead Celebrities' alongside a brilliant video, available now on Island Records. The hotly-tipped Leicester-based band released their new mixtape, 'Junk Food', on 10th January, which also features the singles 'Earth' and 'Nice Guys' alongside a collaboration with Arlo Parks, 'Sangria'.
In other big news, Easy Life were announced in the number 2 spot in the prestigious BBC Music Sound of 2020 today ahead of their intimate 'Meal Deal' tour this week at record-stores around the UK – with matinee shows now added due to demand - before commencing their full blown 'Junk Food' tour which includes an already-sold-out date at London's Roundhouse.
'Dead Celebrities' is a playful, surreal but also deadly serious look into the world of 21st century fame, arriving just as Easy Life's own star appears in the ascension. Relocating Leicester's finest to L.A – alongside some familiar faces – Easy Life's ability to handle big themes with a signature lightness of touch is taken to its greatest heights yet on latest project, 'Junk Food'. Whether tackling the environment ('Earth'), modern-day heroes and villains (the Trump-skewering 'Nice Guys' video) or emotional dependency ('Sangria'), Easy Life have emerged the year's most essential new band. And in front-man Murray, the UK may also have found its next unlikely pop star…
Across their formative bodies of work to date – 'Spaceships', 'Creature Habits', and now 'Junk Food' – Easy Life have found a sound (and way with modern storytelling) which feels truly their own. Theirs is a genre-busting attitude that, like many of their generation, draws no line between a love of US rap as the minutiae of British life in the pursuit of creative freedom (and emotional honesty). On a personal level, Easy Life have also come to represent the power of hard graft and a positive outlook when national optimism seems in particularly short supply. From Murray's upbringing on a farm to lyrics that have won them a passionate global audience, the band's journey thus far is a timely reminder never to settle for an Easy Life.
'Junk Food' Mixtape:
1. 7 Magpies
2. Nice Guys
3. Sangria ft. Arlo Parks
4. LS6
5. Dead Celebrities
6. Earth
7. Spiders
https://www.facebook.com/easypeasylemonsqueezylife/