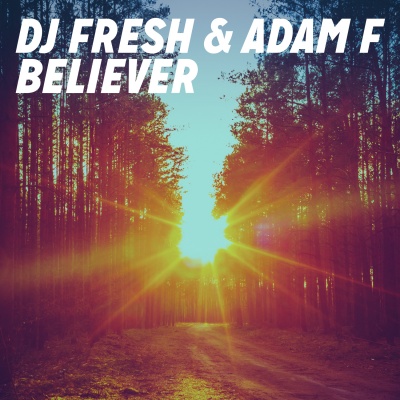 DJ Fresh & Adam F
'Believer'
Released 7th June 2015.
Following the recent Top 5 success of 'Gravity' ft. Ella Eyre, legendary DJ/producer DJ Fresh has teamed up with Adam F on the new single 'Believer'.
Scheduled for release on June 7th via Ministry Of Sound Recordings, 'Believer' pays homage to Renegade's classic 'Terrorist' - a breaks-driven old skool jungle anthem that became synonymous with UK underground dance culture during the 1990s. 'Believer' employs a classic breaks sound - underpinned by rumbling bass licks and fuzzy low end - and pitches it against a powerful, club-centric vocal that adds to the depth, energy and overriding soul of the record.
Combined with vocals from Yola Carter, 'Believer' is testament to both DJ Fresh and Adam F's vibrant, genre-blurring musical outlooks combining the underground credibility of a seminal classic with contemporary verve and polish to great effect and feels ready to make a real impression throughout the summer.
About DJ Fresh
DJ and Producer Daniel Stein AKA DJ Fresh is one of the UK's most respected and influential electronic music producers, revered as much for collaborating with emerging artists as he is certified, global stars including Rita Ora, Ms. Dynamite and Ella Eyre. Having sold over 2.5 million records worldwide and with two UK #1 singles to his name. Returning with the storming, drum & bass laced 'Gravity' in February 2015, DJ Fresh continues to prove that he's impossible to pigeon-hole, turning his creative hand to multiple genres whilst maintaining a familiar, signature sound.
About Adam F
With a thriving discography boasting an impressive nine Gold and six Platinum singles, as well as a coveted MOBO award, UK producer Adam F has established himself as one of the UK's most accomplished electronic music producers. Performing live with a full band at festivals such as Glastonbury and the Electric Daisy Carnival, Adam has worked with, produced, remixed for the likes of The Prodigy, Pendulum, Dizzee Rascal, Rihanna and DJ Fresh and had his first #1 single as a writer with Secondcity 'I Wanna Feel' last year.
For more information on DJ Fresh see below:
https://www.facebook.com/djfresh
https://soundcloud.com/djfreshuk
https://twitter.com/DJFreshUK
http://thedjfresh.com
For more information on Adam F see below:
https://www.facebook.com/AdamFOfficial
http://soundcloud.com/adam-f-breakbeat-kaos http://www.myspace.com/adamfenton
http://www.twitter.com/adamfmusic http://www.youtube.com/user/adamfentonuk