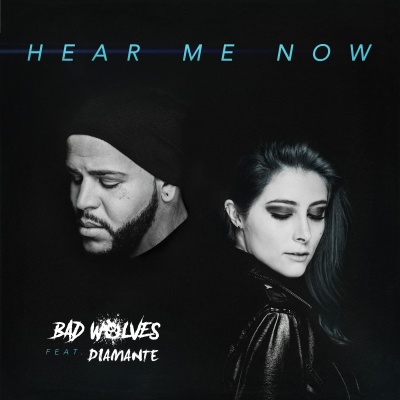 Bad Wolves ft. Diamante
Hear Me Now
New Single Out Now.
Bad Wolves have released "Hear Me Now" ft. Diamante. The surprise duet sees Bad Wolves' frontman Tommy Vext and Diamante join forces in a powerful display of intertwined vocals on the soaring ballad.
"It is undeniable what Diamante brought to the song as a final touch," explains Vext of the collaboration. "In retrospect it always felt like "Hear Me Now" was a duet. In the process of recording together, I think we all fell in love with Diamante a little bit. And we think you will too."
The labelmates tour together this summer on the What's In Your Head Tour, with Bad Wolves and From Ashes To New co-headlining and Diamante opening each show.
"When Bad Wolves invited me to record "Hear Me Now" I was completely ecstatic and honored!," shares Diamante. "I am in love with everything about the song, which makes me even more excited to go on our tour this summer with them and From Ashes To New! Bad Wolves and FATN are both incredible bands, and I cannot wait to hit the road with them."
2018 has proven to be a breakout year for Bad Wolves, who released their debut record, Disobey in May via Eleven Seven Music. Earlier this year, the band released their cover of The Cranberries' intergenerational hit, "Zombie" as a tribute to late frontwoman Dolores O'Riordan, who was set to reprise her iconic vocals on the track. Resonating with audiences across the globe, "Zombie" has topped global charts and the music video has accumulated over 99 Million video views on FB and YouTube combined since its release.
Up-and-coming solo artist and Better Noise label-mate Diamante has previously opened for Whitesnake and Steel Panther. The 21-year-old, turquoise-tressed, Mexican-Italian-American musician is sure to wow audiences with her signature brand of sultry attitude and rock swagger on tour this summer and on her debut album Coming In Hot - featuring the viral title track and lead single "Had Enough". It is produced and mixed by Howard Benson [Chris Cornell, Kelly Clarkson, My Chemical Romance, Halestorm].
Bad Wolves Are Currently Touring The USA With Five Finger Death Punch, Breaking Benjamin + Nothing More.
https://www.facebook.com/badwolvesofficial/
https://www.instagram.com/badwolvesofficial/