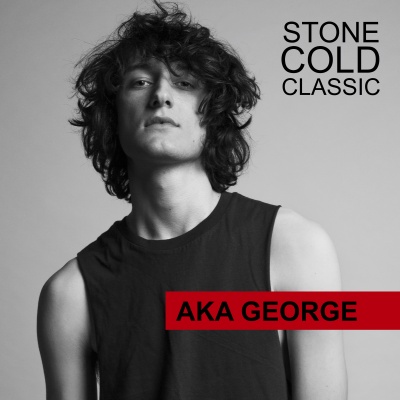 AKA George
Stone Cold Classic
New Single Out Now.
With Pharrell hailing him "a genius", 30 million youtube hits and a sold-out headline show at The Camden Assembly, AKA George has released a new single 'Stone Cold Classic'.
Watch the video here:
What kind of brand-new, fresh-out-of-the-box artist turns down the opportunity to work with Pharrell Williams and Nile Rodgers?
The kind of brand-new artist who was at the centre of a good, old-fashion shoot-out between record companies vying for his signature on their contract, that's who. The kind of brand-new artist whose first unsigned foray onto YouTube got him a cool 30 million views. The kind of brand-new artist hailed as 'a genius' by Pharrell, who was following him on Twitter just to keep up to speed. The name of that brand-new artist? AKA George.
So why did AKA George, with his rangy classic-rock good looks, walk away from all that interest and even go so far as to tear down everything he'd posted on YouTube when most new artists would be riding into town on the back of that sort of attention?
Because AKA George is firstly all about the music, the sort of artist who wants to do things on his own terms and at his own pace. It was his way of asking the world to back off until he had got his act - the act he wanted to be - together.
'It was all moving too quickly,' says AKA George, with his mop of curly brown hair and gangly sexiness. 'I was in these plush offices talking to hit-making A&Rs thinking, "This isn't right. They don't know what they are signing. They are just impressed with numbers. And in the end numbers don't mean anything. Even now they're all chasing them as if they translate into good music".'
It all started innocently enough with a cover of Pharrell's 'Get Lucky' - and let's face it, there have been a few. But this is the one that caught the man himself's attention, snowballing into a viral hit and all that attention. Another artist might have rush-released the song to capitalise on the social media storm. Not AKA George. He wanted to cool his heels and be properly ready for his moment.
And that moment is now.
'Stone Cold Classic' hooks you in with the very first riff and hand-clap as this gloriously rebellious garage-rock inspired track sinks its teeth into your subconsciousness. From the Jagger-esqe swagger and the driving beat of the White Stripes, this is a must for any alternative club dance floor or playlist. Tastemaker support has come from Clash, Sofar Sounds and Tom Robinson from BBC Introducing, who said "He is one song away from superstardom".
https://www.facebook.com/akageorge.uk/
https://twitter.com/akageorge
https://www.instagram.com/_akageorge/